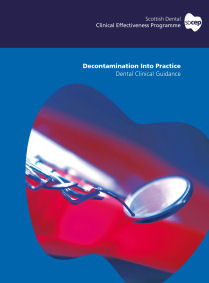 Decontamination Into Practice
Reviewed and extant January 2016 (see 'Review and updating' below for details)

Decontamination Into Practice is a series of documents that provides advice on various aspects of instrument decontamination in dental practice, including cleaning and sterilization of reusable instruments, and management of decontamination in the practice. Appendices with related information and Supporting Tools are also available to download.
Consultation on draft SHTM 01-05 guidance is ongoing until 31 January 2023. In due course this will replace the SDCEP Decontamination into Practice guidance. Until then, the SDCEP guidance remains extant.
Downloads
Decontamination Into Practice comprises the following parts:
Versions in accessible formats (Word) are also available
Please note that some of the external weblinks included in the current guidance may have changed since its publication.
Supporting tools: The following are examples of logbook test record pages for recording details of daily and weekly safety checks and tests for a period of up to five weeks. If required, these can be adapted to record other information as recommended by the equipment manufacturer.
Health Facilities Scotland supplies standard logbooks for various types of sterilizers, washer disinfectors and ultrasonic cleaners. These can be obtained online at: www.hfs.scot.nhs.uk/services/decontamination-services/guidance. Record sheets may also be available from your equipment supplier.
A Framework to Support Staff Development in the Decontamination of Re-usable Medical Devices, which is applicable to staff working in NHS Boards and the independent sector, including general dental practices, has been developed by NHS Education for Scotland to support those who undertake, manage or are responsible for decontamination activities. (Requires TURAS log in)
These publications are only available as downloadable online resources. They are no longer available in print.
About this guidance
Effective decontamination of instruments is a key element of infection control and the provision of quality dental care. A range of technical specifications and legal standards govern the decontamination process. Historically, existing guidance concerned with meeting these was not easily accessible or well publicised to primary care dental services. Furthermore, decontamination provision and its accompanying guidance are constantly evolving as new information and equipment becomes available. Based on these existing sources of information, Decontamination Into Practice is a series of advice documents concerned with organising and carrying out decontamination. Written specifically for primary dental care providers, the advice is presented in a manner that aims to facilitate improvements in decontamination practice and help the evolution towards compliance with the relevant mandatory and statutory standards. The guidance was last updated in October 2014.
Guidance development
The Guidance Development Group (GDG) for Decontamination Into Practice comprised individuals from across the dental profession with particular interest and experience in decontamination and was assisted by our Programme Development Team. Since it was first convened in 2004, the GDG's composition has varied as noted below.
Both Parts 1 and Parts 2 of Decontamination Into Practice were subject to wide consultation and Peer Review.  At each stage the feedback received was carefully considered and the guidance amended accordingly prior to publication.  As new knowledge and technology develops it may be necessary to update this guidance in the future.
Expert advice was provided by the Health Facilities Scotland Decontamination Team.
SDCEP acknowledges the important contribution of all those who commented during the consultation and peer review stages.
Review and updating
In January 2016, SDCEP completed a periodic review of the Decontamination Into Practice guidance. No substantive changes to legislation, regulations or generic national guidance on which the current SDCEP guidance is based were found. It was agreed that no update is warranted at this time and that this guidance remains unchanged and extant until the next review. In April 2019, SDCEP was advised updating of the generic national guidance on which the SDCEP guidance is based, is expected to start in 2019.  Consequently, further review and updating of SDCEP's Decontamination Into Practice guidance will be delayed until this work is complete.
In April 2017, the Scottish Health Technology Group (SHTG) within Healthcare Improvement Scotland published updates to their advice statements about types of steam sterilizer and storage of dental instruments sterilized unwrapped.  For both of these, SHTG did not identify any evidence that indicates the need to change practice that is currently recommended in SDCEP's Decontamination into Practice Guidance. The updated advice statements and the evidence summaries on which they are based can all be accessed at the SHTG website.
Please note that some of the external weblinks included in the current guidance may have changed since its publication.