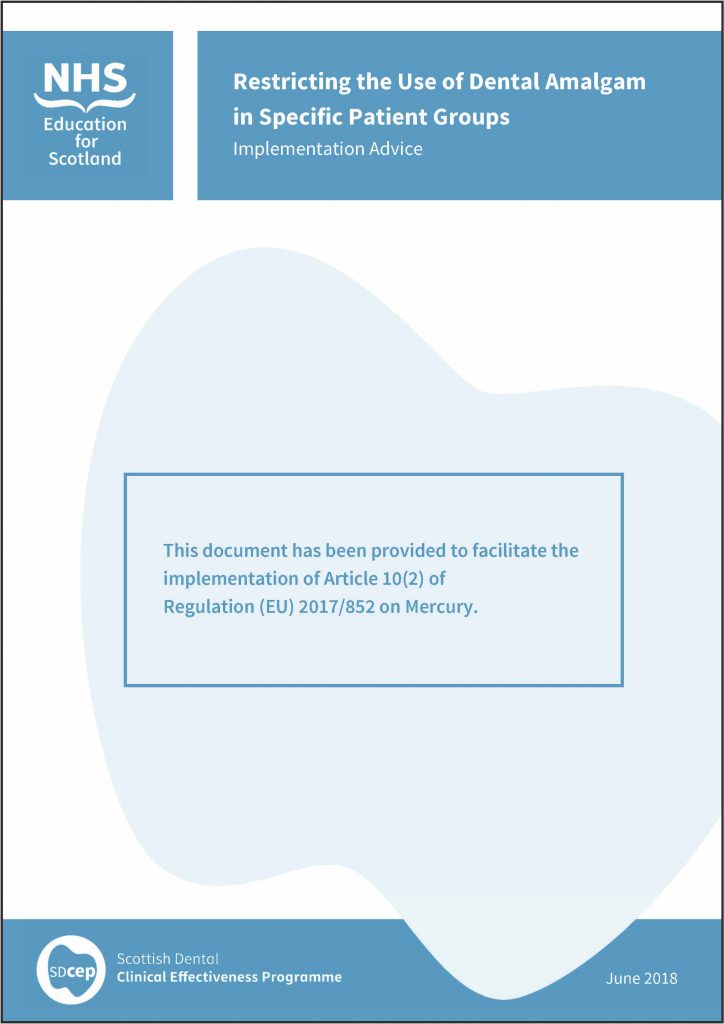 Implementation advice for Article 10(2) of Regulation (EU) 2017/852 on Mercury
Published June 2018
Downloads
Supporting tools
Patient information leaflets are provided to inform patients and parents or carers about the restrictions on dental amalgam use, how this might affect the dental treatment offered and provide reassurance about their care. Accessible versions are also available.
An additional document provides further explanation of aspects of the restrictions for the dental team, to support discussions with patients and parents or carers.
Please note that these publications are only available as downloadable online resources and are not available from SDCEP as printed copies.
About this advice
Restricting the Use of Dental Amalgam in Specific Patient Groups has been developed to facilitate the implementation of Article 10(2) of Regulation (EU) 2017/852 on Mercury. The new environmental restrictions on dental amalgam use are applicable in UK law from 1 July 2018. After this date, the use of dental amalgam for treatment in patients under 15 years old, in pregnant or breastfeeding patients or for primary teeth in any patient will only be allowed where deemed strictly necessary by the dental practitioner. The restrictions specified in the EU regulation have been introduced to fulfil the requirements of the global Minamata Convention which aims to phase-down the use of mercury and mercury containing products, including dental amalgam, on environmental grounds.
The advice aims to support dental professionals across the UK in interpreting and implementing these environmentally-driven restrictions on dental amalgam use. Information is provided on caries prevention, alternative caries management approaches and restorative materials to inform practitioners' clinical decision making.
This implementation advice has been endorsed by the Dental Faculties of the Royal College of Surgeons of Edinburgh and the Royal College of Physicians and Surgeons of Glasgow, and by the Faculty of General Dental Practice (UK). Use of this advice is supported by the Chief Dental Officers of Scotland, England, Northern Ireland and Wales.
Development of this implementation advice
This SDCEP advice is a departure from conventional clinical guidance in that it is based around a pre-defined legal provision rather than on independently developed evidence-based clinical recommendations. The advice was developed following a rapid process that draws on elements of SDCEP's accredited guidance development methodology. A short-life working group including experienced dental practitioners and experts in restorative and paediatric dentistry was convened to develop the implementation advice based on a consensus of expert opinion after consideration of the available information and evidence. The advice was subject to UK-wide open consultation prior to finalising for publication.
Further information about the development of this advice is available on request. Please contact the SDCEP office (scottishdental.cep@nes.scot.nhs.uk).
A short-life working group comprising individuals from a range of relevant branches of the dental profession was been convened to develop this implementation advice.
SDCEP acknowledges the important contribution of all those who commented during the consultation stage.