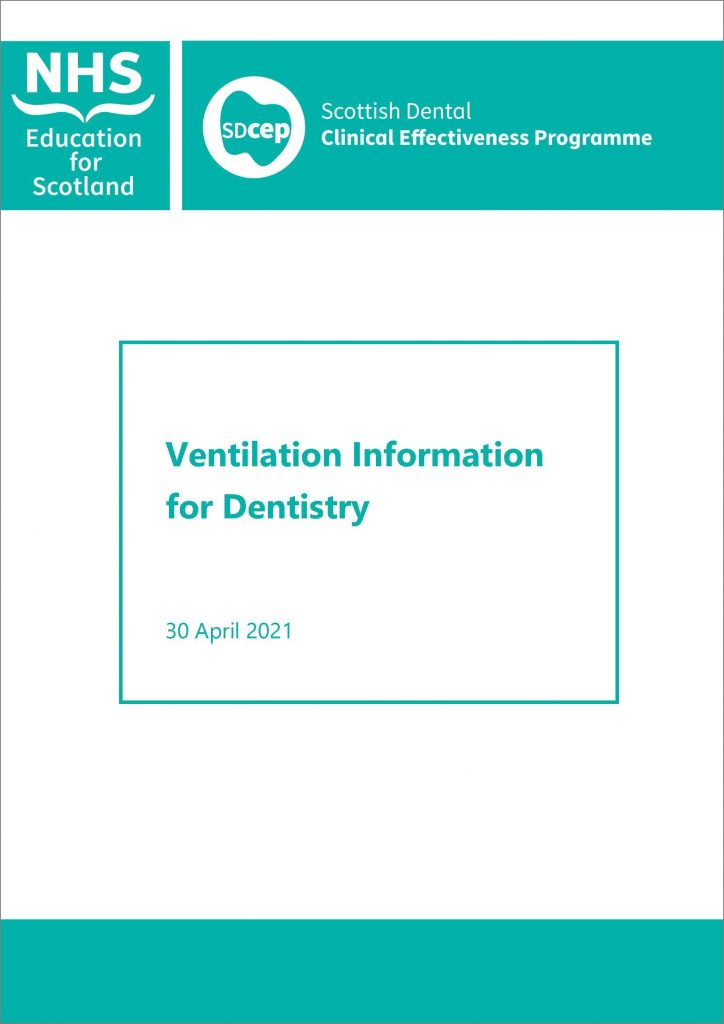 COVID-19: Practice recovery
Note that these resources are subject to change as new information becomes available. Therefore, please ensure that you are viewing the most recent version available on this webpage.
Ventilation Information for Dentistry
Effective ventilation is the major environmental factor in dissipating aerosols. Therefore, dental practices may be considering how to assess and, if necessary improve, ventilation in their premises. SDCEP has compiled a summary of currently available information on ventilation, with a focus on advice and information that has relevance for dental facilities.
Download
About this resource
This document is provided for information and is not guidance. It has been compiled from several key publicly available documents developed by other organisations and expert groups, including the Scientific Advisory Group for Emergencies (SAGE) Environmental and Modelling group (EMG) and NHS National Services for Scotland (NSS). This resource was developed with input from expert members of the SDCEP Mitigation of Aerosol Generating Procedures in Dentistry – A Rapid Review Working Group, and end-users. The information is presented under the following headings:
Why is ventilation important?
What is the difference between ventilation, air cleaners, extraoral suction and air conditioning?
What types of building ventilation are used in dental surgeries?
What are the requirements for ventilation in dental settings?
What is the air change rate in my surgery?
How does the ACH relate to post-AGP fallow time?
How can I improve the ventilation in my surgery?
Will an air cleaner help?
Practice recovery toolkit
Downloads
A rapid review of aerosol generating procedures in dentistry is available.
Comparison of UK Return-to-Practice Documents
In recent weeks, several return-to-practice guidance and standard operating procedure documents have been produced across the UK. A comparison of the six main documents is published here with the agreement and involvement of the source organisations. The level of agreement across the source documents should provide reassurance to dental professionals in every area of the UK.
About the practice recovery toolkit
On 20 May 2020, CDO Scotland issued a letter that described a phased approach to the remobilisation of NHS dental services after closure due to the COVID-19 pandemic. The naming of phases was changed on 8 June 2020 to align with those in the Scottish Government's COVID-19 framework. Phases 2 and 3 include the provision of care in general dental practice using non-aerosol generating procedures.
SDCEP has developed a Practice Recovery Toolkit, which is provided via this webpage.
The aim of this resource is to provide advice and implementation tools to support primary care dental practices specifically concerning Phases 2 and 3 of remobilisation.
The Practice Recovery Toolkit comprises:
resuming dental services guide;
patient COVID-19 screening questions (also in Appendix 1 of the guide);
patient management flowchart (also in Appendix 2 of the guide);
template notice for practice entrances (also in Appendix 4 of the guide);
practice reopening checklist.
This is a 'living resource' which may be amended after publication to incorporate minor improvements following in-use feedback from the profession, as new information becomes available or as circumstances evolve in the weeks ahead.
Development of the practice recovery toolkit
These practice recovery resources have been developed by the SDCEP guidance development team in consultation with a range of experienced and expert dental professionals with patient input. A list of direct contributors is provided in the practice recovery guide. The advice provided is based on the latest information derived from NHS Scotland and other UK publications. It also draws on various resources developed to support similar remobilisation activities in other countries (a review by Cochrane Oral Health is available).
SDCEP gratefully acknowledges the wide range of colleagues who have participated in the development of these resources for their invaluable and rapid contributions.
Any feedback may be directed to scottishdental.cep@nes.scot.nhs.uk.